Many years ago, Betsy expressed envy at Dosie's industrial Saran wrap dispenser. So we bought her one. This had to be at least 15 years ago. We only pulled it out when we had run out of the little 100ft boxes you get at the grocery store.
Finally, finally, it ran out: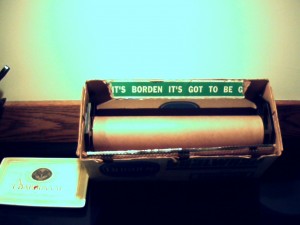 I don't know if she knew it was about to run out or not but a few weeks ago, the following kraft paper dispenser showed up at the door. Here it is in place, ready for Christmas gift wrapping http://www.mindanews.com/buy-accutane/ duty.

And after a few years of duty at darack as HAMS, the hoard's application machine, this machine has morphed into the new Camp Cornell media computer. It has a Visiontek Radeon HD 3450 graphics card with HDMI out as you can see below:

Right now it is just waiting at login. As soon as the wireless keyboard/trackball shows up Thursday, I can login and see how it looks.